Dear Latin Community,
We wanted to share an update on our progress on the search for Latin's next Head of School. Since our last communication in early September, we have devoted significant time to collecting input from you about the priorities for Latin and the background, attributes, skills and experiences desired in our next leader.
Thank you to all who took time to share your thoughts. We received nearly 600 responses to the online survey and more than 140 upper school students, parents/guardians, faculty, staff, administrators, trustees and alums participated in listening sessions facilitated by Storbeck. Across all of these channels, some important recurring themes emerged in terms of qualities the Latin community is seeking in candidates:
Dedicated to excellence and innovation in JK-12 education

Outstanding communicator

Strong management skills, particularly within a time of transition

Can engage and empathize with all constituents

Can make people feel seen, heard, respected and valued

Has experience building a vision for a more diverse and inclusive school; able to support/lead discourse on DEI

Embraces the city of Chicago as a resource

Approachable, visible, honest and open
This input was incorporated into the HOS opportunity statement which we are pleased to share with you today. This document will also be shared on our website and in all of the outreach done by Storbeck on our behalf. The completion of the opportunity statement brings us to the next critical step in this process: finding the best candidates for our consideration to lead Latin and its community.

We want to thank all of those who volunteered to devote more of their time to our search process as part of the newly formed HOS Faculty & Staff Advisory Council. This group has been formed to provide the HOS Search Committee with additional, valuable feedback and perspectives. The Council members include:
Kathleen Meade, middle school science teacher, Chair

Nick Baer '96, upper school theater teacher and performing arts department chair

Fiona Deeney, lower school computer science & technology integration specialist

Alexandra Fields, director of college counseling

Russell Harris, middle school visual arts teacher

Kate Lorber-Crittenden, upper school English teacher

Avani Tandon, fourth grade lead teacher
We look forward to keeping you apprised of our progress and reaching out soon with the next opportunities for your participation.

If you have any questions, please feel free to contact us or Storbeck at LatinHeadofSchool@storbecksearch.com.
Sincerely,
David J. Koo
Chair, Board of Trustees
Maury R. Tognarelli
Chair, Head of School Search Committee
Head of School Search Committee Members:
Dontrey Britt-Hart, Trustee

Jenny Cizner '95, Trustee

Charlie Gofen '83, Senior Trustee, Former Board Chair

Shelley Greenwood, Assistant Head of School

David Koo, Board Chair

Kathleen Meade, Faculty Council Chair

Dara Milner, Board Vice Chair

David Williams, Trustee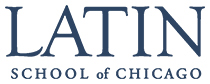 59 W. North Blvd.
Chicago, IL 60610