Going Remote: Togetherness Holds a Whole New Meaning for the Latin Community #RomansTogether
One thing Latin students say frequently is that our buildings "feel like home" to them. Making kids feel at home is something that all adults, from classroom teachers to reception staff, strive to foster. On March 12, 2020, this sentiment took on a whole new meaning when Latin shifted to a remote learning model for all students due to COVID-19. Suddenly we were faced with making homes across the city feel like Latin.
Our vision for educational excellence compels us to expand each learner's capacity for purposeful learning, and never before has that vision been more imperative. As the pandemic has progressed, each and every one of us has had to expand our capacity not only for learning, but also for teaching, for communicating, for decision-making and for leading.
We are strong together. We are loyal and true together. And we will remain Romans together.
No one could have imagined back in August how the meaning of our annual theme, Together, would be tested over the last months. We have proven it does not describe only physical closeness, but rather a feeling of connectedness that can withstand shelter-in-place orders, can withstand quarantine and can withstand social distance. Now, the meaning of "together" is much more synonymous with our school motto, fidelitas, which is the Latin word for faithfulness. On the day we first had to close the doors of our buildings we adopted the hashtag #RomansTogether because: We are strong together. We are loyal and true together. And we will remain Romans together.
---
See how students, faculty and alumni have proven that learning something new, making memorable experiences and giving back to the community can happen anytime and anywhere.
Blue and Orange Olympics
The 2020 Summer Olympic Games may have been postponed, but the Lower School Olympics went off without a hitch. All the events are designed to be completed indoors or outdoors using common household items, including a laundry basket or bucket, paper, a towel, a blanket, painter's tape, string or streamers, pillows, a timer, a paper ball or sock ball, paper plates, markers or crayons, and a mop or broom. Six activities per grade level (JK–4th grade) were posted on Seesaw along with the details of the event as well as a "how to video." Based on the videos students submitted via Seesaw, they definitely took home the gold!
---
Egg Drop at Home
The Egg Drop changed a little this year due to remote learning. Fourth grade students still engaged in the engineering and design process and considered the problem and materials they could use to solve it. However, this year, they were tasked with designing a container built from any household materials of their choice that would protect an egg from breaking when dropped from a minimum height of six feet. All 64 students in the grade submitted videos of their egg drop, and the vast majority had success. A silver lining to completing the egg drops at home was that whole families got involved.
---
Family Music Makers
On any given day, if you were to walk into the lower school music room during class, you'd probably see students collaboratively singing, moving, composing, and playing drums, xylophones, shakers, triangles and all sorts of percussion instruments. So what better way to kick off the remote music learning series than to re-create the joy of music-making together with families. The instrument choices were boxes (drums), cutlery, lids, pots/pans/cans or other items that could creatively be turned into musical instruments. Everyone could join the band – babies, toddlers, younger and older siblings, grown-ups and even pets.
---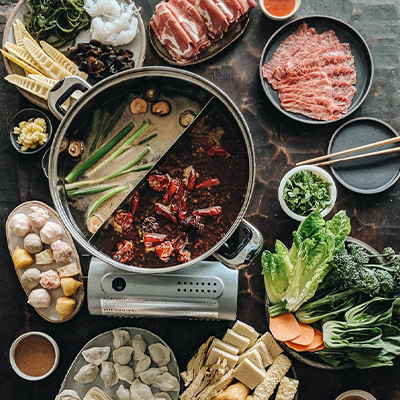 Sixth Grade Foodies
Middle school students don't just take computer science (CS) courses; they also incorporate CS techniques into their classwork, which provides a more real-world experience utilizing those skills. An example of this collaboration is the one between middle school CS teacher Bobby Oommen and middle school Language Arts teacher Sarah Abaza on the sixth grade food writing unit. Back in January, Oommen and Abaza planned for students to take on the role of food critics and compose food reviews, then publish them online by coding their own websites. Despite transitioning to remote learning in March, Oommen and El-Abaza moved forward with the plan so that students could share their published sites with others. Oommen's detailed, step-by-step tutorial videos helped the students create and personalize their sites once they finished composing the review. Warning: These reviews will make you hungry!
Features
Academics
Around School
Community & Traditions
Features
Student Life
lower school
middle school
upper school